Last week we looked at 5 gifts that pamper the feet. This week we are going to highlight gift ideas that come from Zazzle.com – a print on demand website. New to Zazzle? Wikipedia describes it best:

Zazzle is an online retailer that allows users to upload images and create their own merchandise (clothing, posters, etc.), or buy merchandise created by other users, as well as use images from participating companies.
You can browse through dozens of different product types looking for the perfect design or you can try your hand at creating your own. Today, however we are going to highlight 5 gifts on Zazzle that you could give to your dance teacher.
Dance Teacher Gratitude Plaque
Dance Teacher Gratitude Plaque
– Customize this cute 8×10 plaque for your dance instructor to proudly display. Add your own picture and message to make a unique present your dance teacher can cherish for years to come. A gold and turquoise damask background add a little flair to your gift and with an attached easel it's a snap to show off anywhere.
Buy the Dance Teacher Gratitude Plaque for $29.95
Love to Teach Dance Ornament
Love to Teach Dance Ornament
-Featuring an inspirational saying on one side and space on the other side to add your own message, this ceramic ornament is sure put a twinkle in your dance teacher's eyes. Ornament reads "A dance teacher helps their students find the song in their [heart], the beat in their feet, and a passion for life". With color emphasis on heart, beat and life, this gift is perfect the holidays.
Buy the Love to Teach Dance Customizable Ornament for $21.95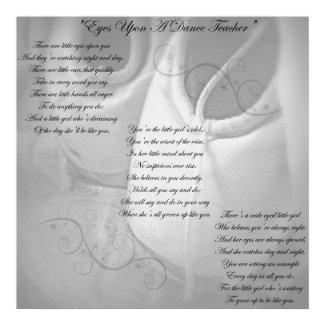 Dance Teacher Poem Poster
– Featuring the Poem "Eyes Upon a Dance Teacher" this poster is one of our most popular products. On a black and white background of pointe shoes the poems reads:
"Eyes Upon A Dance Teacher"
There are little eyes upon you
And they're watching night and day.
There are little ears that quickly
Take in every word you say.
There are little hands all eager
To do anything you do;
And a little girl who's dreaming
Of the day she'll be like you.
You're the little girl's idol,
You're the wisest of the wise.
In her little mind about you
No suspicions ever rise.
She believes in you devoutly,
Holds all you say and do;
She will say and do in your way
When she's all grown up like you.
There's a wide eyed little girl
Who believes you're always right;
And her eyes are always opened,
And she watches day and night.
You are setting an example
Every day in all you do,
For the little girl who's waiting
To grow up to be like you.
Buy the Dance Teacher Poem Poster for $18.25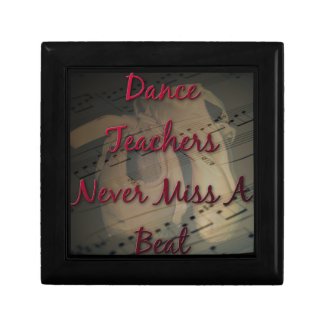 Dance Teachers Never Miss A Beat Jewelry Box
– This gift box features a background of pointe shoes blended with sheet music and the saying 'Dance Teachers Never Miss a Beat' in pink to purple text. Choose from 4 different colored boxes to find the perfect fit for your dance teacher. Personally this is one of my favorite products.
Buy the Dance Teachers Never Miss A Beat Jewelry Box for $30.95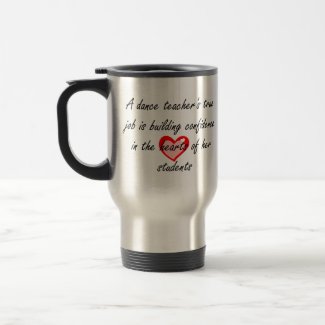 Dance Teachers Build Confidence Coffee Mug
– This travel mug features a cute saying about dance teachers. A dance teacher's true job is building confidence in the hearts of her students. There is a red heart background to add a little color. The design is featured on both sides of the mug and you can chosse either a stainless steel or plain white version of the mug.
Buy the Dance Teachers Build Confidence Coffee Mug for $29.95 or Buy the Male Dance Teachers Build Confidence Coffee Mug for $29.95
Tell Me: What is your favorite Zazzle product?
(Note: This is a gift guide. Links in this post may contain Dancin Darling's referral id)